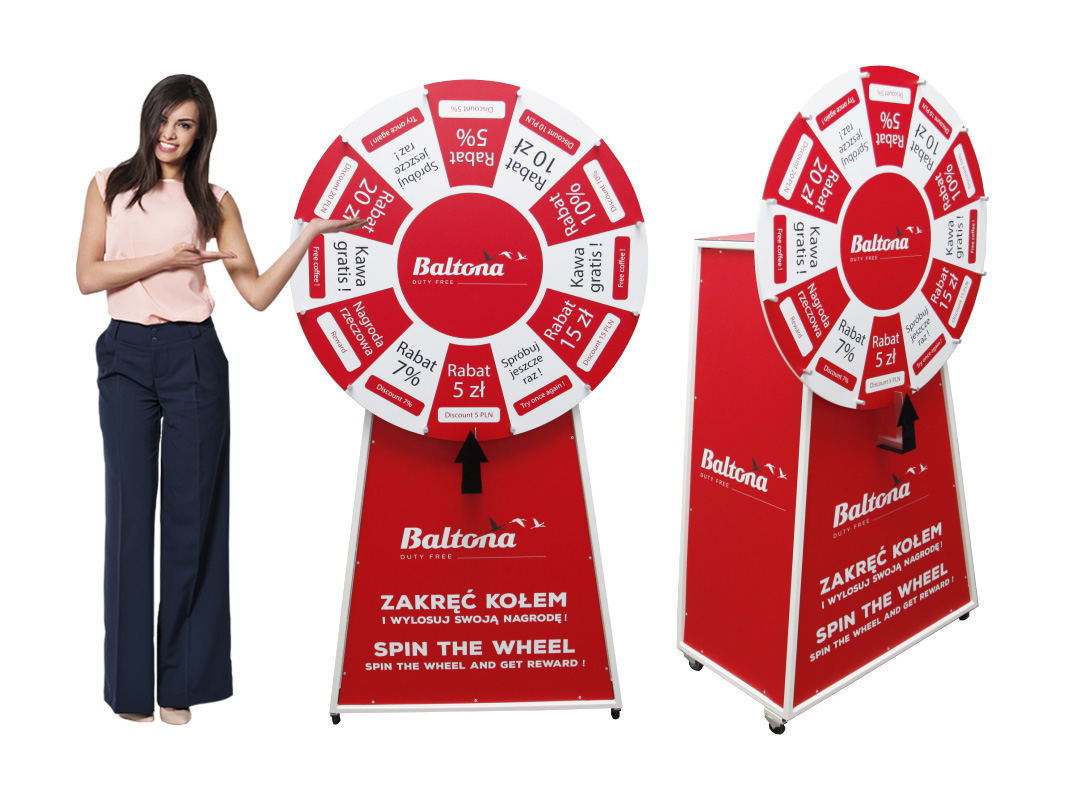 Wheel of fortune with your logo on order
Model GIZA
with a stand on PYRAM PIRAMID wheels
With STANDARD type dial:
Price: 1200,00 EUR
If the wheel of your fortune wheel has more than 8 fields, then the 5,00 EUR should be added to the above price for the additional bolt (stopper) for each subsequent field.
With the EXCHANGE FIELD type dial:
Price: 1400,00 EUR
printed main wheel disk + a set of 8 interchangeable printed fields

both sides
+ costs courier shipping:
price depends on the country of delivery
Approximate production time: 21 business days
+ courier service.
Optional for the EXCHANGE FIELD dial:
- Additional set of exchangeable boxes (8 pieces) printed on both sides: 130,00 EUR
THE MOST IMPORTANT INFORMATION:
Prestigious wheel of fortune,
which will work perfectly in a larger store, shopping mall, airport.
4 independent chisels give the possibility of putting any graphics on each side,
and the wheels in the base allow the free movement of the wheel of fortune within the premises.
The most important information:
• Diameter of the wheel disc: 90 cm (the size may be smaller):
• Base: on four wheels of the PYRAMID SACK type
• Truck: 4 independent walls give the possibility of applying any graphics on each side
• Foldable design for easy transport
• Graphics: Any (individual project included in the price)
• Standard number of fields: 8 (may be more or less)
Specification:
• Wheel disc material: PVC with a thickness of 10 mm
• Wheel and walls graphics: printed and laminated foil (matte or gloss) - full color CMYK printing
• The height of the whole: about 178 cm
• Trolley (truck) size: 85 cm x 55 cm base, trolley height with 135 cm wheels
• Trolley (truck) walls: dibond material
• Rear wheels with the possibility of blocking
• Structure of the trolley: Steel (possibility of painting on a selected color from the RAL palette)
• Arrow indicating the drawn field in red, white or black
• Bolts (stoppers) separating and stopping the fields: aluminum in light gray
• Weight of the whole: about 40 kg
FORTUNA WHEEL - TYPES OF SHIELD: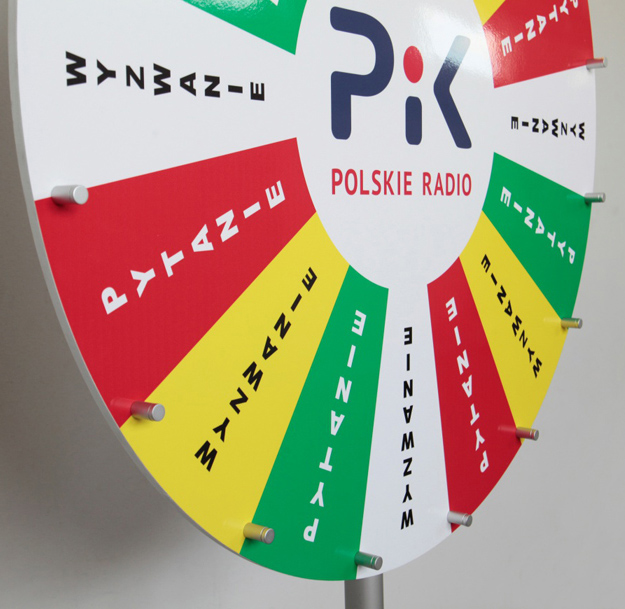 "STANDARD" shield
has a fixed, printed graphic
Wheel of fortune wheel with a diameter of 90 cm with any graphics.
Type of printing (CMYK): glued foil + mat laminate or gloss.
The size of the blade may be smaller (eg 70 cm).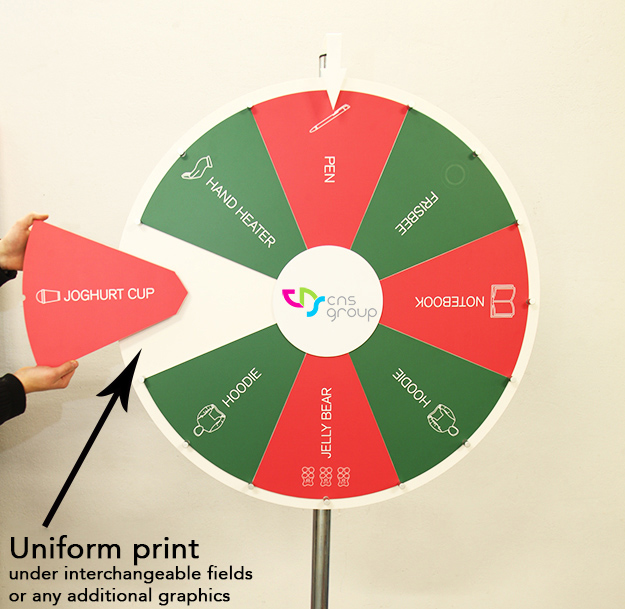 Shield "EXCHANGE FIELDS"
the ability to exchange fields without any tools
Wheel of fortune wheel with a diameter of 90 cm with 8 pieces of interchangeable boxes.
Interchangeable boxes (3 mm PVC inserts) printed on one or both sides.
Possibility of printing a wheel disc on interchangeable fields.
Option to buy additional sets of inserts (exchangeable boxes).
Below is a mini video showing the exchange of fields:
WHEEL FORTUNE PRODUCENT
WHEEL FORTUNE PRODUCTION
Tags and keywords:
wheel of fortune producer
wheel of production fortune
producer of the wheel of fortune
production of the wheel of fortune
wheel of fortune, wheel of fortune producer, wheel of fortune production, producer of the wheel of fortune, production of the wheel of fortune, kolofortuny.eu, wheel of fortune price, wheels of fortune producer, wheels of fortune production, wheel of fortune game, event equipment manufacturer, wheel of luck, wheels luck, wheel of fortune shop, advertising wheels of fortune, promotional wheels of fortune, wheels of fortune for the event, price of the wheel of fortune, wheel of fortune on order, wheel of fortune London, the wheel of fortune Liverpool, the wheel of fortune Manchester, the wheel of fortune Monaco, the wheel of fortune Barcelona, the wheel of fortune Madrid, wheel of fortune Dublin, the wheel of fortune Brussels, the wheel of fortune Amsterdam, the wheel of fortune Milan, the wheel of fortune Rome, the wheel of fortune Moscow, the wheel of fortune Berlin, the wheel of fortune Prague, the wheel of fortune Paris, the wheel of fortune Vilnius, the wheel of fortune Riga, the wheel of fortune Talin, the wheel of fortune Kiev's, the wheel of fortune Oslo, the wheel of fortune Stockholm, the wheel of fortune Helsinki, the wheel of fortune Copenhagen, the wheel of fortune Vienna, wheel of fortune where to buy, wheel of fortune where to order, wheel of fortune rental, wheel of fortune sale, wheel of fortuna renting Warsaw, wheel of big forks, party wheel of fortune, wheel of fortune for the fair, wheel of fortune for promotions, wheel of fortune for festivities